AS SEEN IN Architectural Digest HOME AND DESIGN I ORANGE COUNTY
Trust in Simplicity
With a gift for romantic modernism, a passion for the Adriatic seaside, and a client of kindred spirit, Geoff Sumich built his favorite house.
When Geoff Sumich met the clients for whom he would build his hill-side villa overlooking the coast of Orange County, it felt like kismet. "We had the same passion for the Mediterranean," explains Sumich, princk pal of Geoff Sumich Design. The couple wanted a house that would remind them
of their travels to the region, and I have a powerful affinity for the hillside villages of Croatia, where I've been many times." A sloped lot on the Pacific Ocean cre-ated an ideal starting point for the seaside villa. "Our concept was to play with texture rather than color," Sumich explains. We used limestone, stucco, glass, and white canvas. The color palette was beachy with subtle tans and beiges. We wanted a house where you'd fit In perfectly whether dressed for a gala or wrapped in a beach towel." To evoke a "village," Sumich divided the house into a cluster of buildings with varying textures, connected by narrow "streets"—hallways paved In cobblestone and encased in glass. A grotto carved into the adjacent hillside created a quaint town courtyard with a sitting area and fire feature.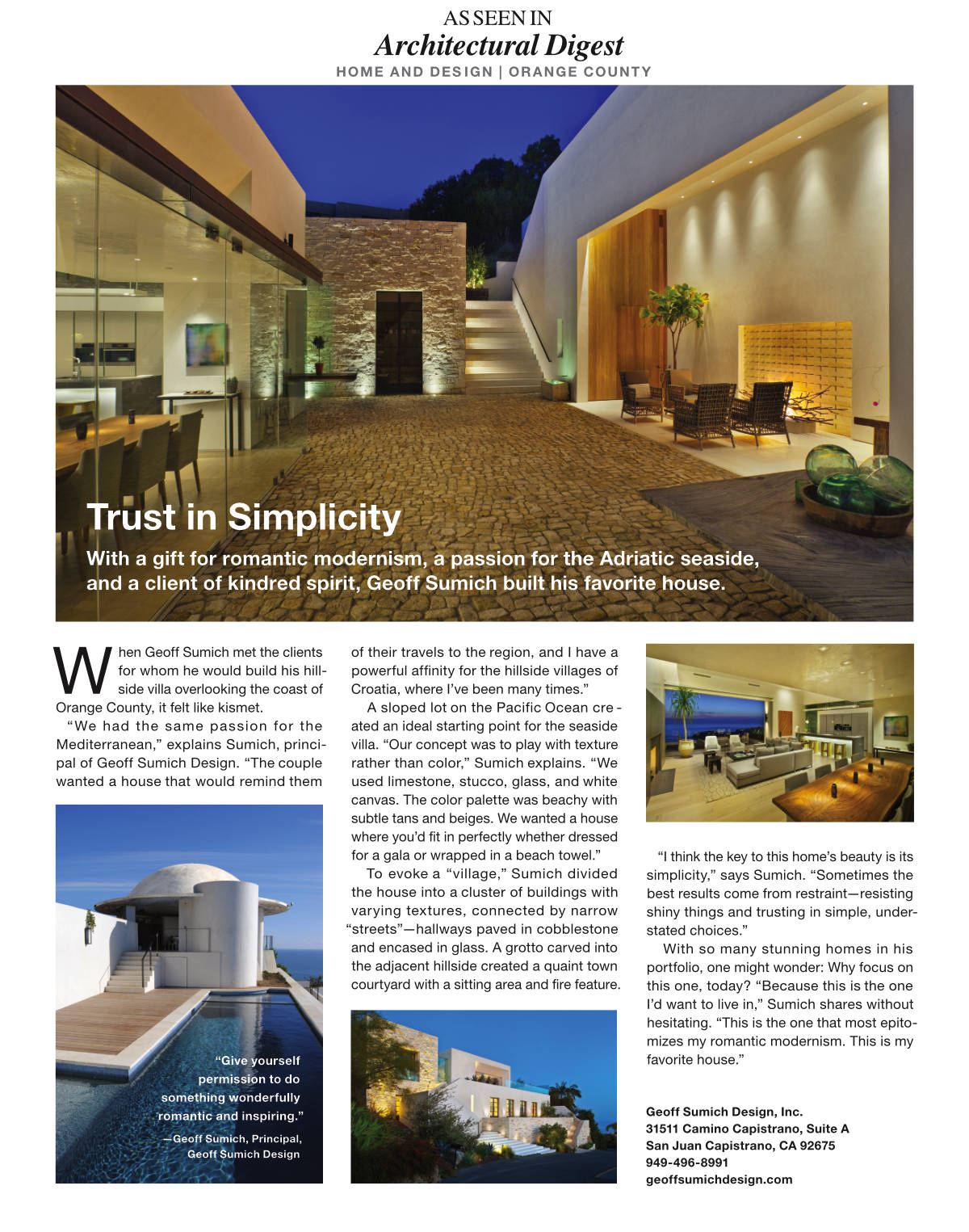 I think the key to this home's beauty is its simplicity," says Sumich. "Sometimes the best results come from restraint—resisting shiny things and trusting in simple, under-stated choices." With so many stunning homes in his portfolio, one might wonder Why focus on this one, today? "Because this is the one I'd want to live in," Sumich shares without hesitating. "This is the one that most epito-mizes my romantic modernism. This is my favorite house."
Geoff Sumich Design, Inc. 31511 Camino Capistrano, Suite A San Juan Capistrano, CA 92675 949-496-8991 geoffsumichdesign.com
architectural digest – january 2020 – "home and design, orange county" – north laguna