artists scott and naomi schoenherr are always on a budget — never more so than when they purchased their rugged, hillside lot in laguna beach, where they planned to build their dream home and ceramics studio. a friend had lost his home in the 1993 fire there and had offered them a good price on the land. "we waited almost six years — saving our pennies," says scott, "before we could build."
when they were ready, they called in architect geoff sumich in san juan capistrano to design their 2,800-square-foot dwelling — an open-plan dining, kitchen and living area with an adjacent master suite that sits atop their ceramic studio nestled into the hillside below. "they wanted to capture the feeling of a japanese farm house," says sumich, a nod to tokyo-born naomi's roots.
creating the artful, two-story, post-and-beam home and studio wasn't easy. throughout the building and permit process that drew out over 6 years, they made tough choices to stay on budget. original plans that included a second bedroom and bath were revised when caissons on the hillside threatened to blow their budget sky high.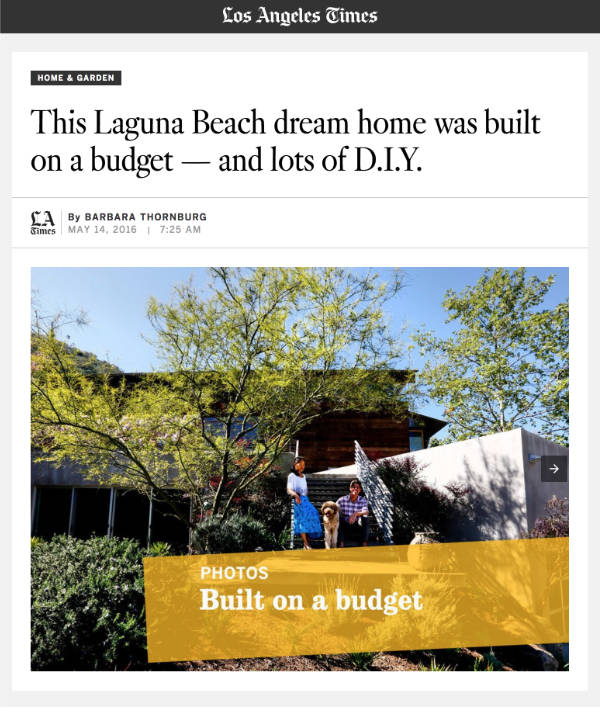 although they had wanted custom doors, they settled for off-the-rack ones from ganahl lumber; straight glass over insulated panes for windows; plywood ceilings instead of tongue and groove douglas fir. selecting a limited palette of simple materials — concrete, plywood and western red cedar — allowed them to get a quantity discount, while also keeping costs low.
"in addition," says naomi, "we did a lot of the work ourselves."
to that end, they waterproofed their exterior retaining wall with a liquid rubber membrane, pre-sealed wood siding on the house, then installed and finished the outdoor deck. they also rented a ditch witch to install the water line to the house, dug trenches for irritation, then planted a drought-tolerant landscape that won roger's gardens california friendly garden contest in 2007.
inside the house, they installed sinks and laid tiles. they also put down the black walnut flooring with the help of a floor installer friend. "he lent us his tools and got us started," explains scott. "basically i would glue and lay the wood and he would hammer it into place and staple it down." since they had purchased a no. 2 common grade wood, naomi selected and pre-arranged floor boards to minimalize any defects, then they sealed the floor with a clear satin polyurethane finish to make the floors look richer and more uniform. "our knees were pretty sore," recalls scott.
naomi shopped around for good buys. it turned out to be less expensive to order the wood floor from a supplier in tennessee — even with shipping costs — than buying from a local showroom. ditto the western red cedar siding that came from washington state. although the artists make beautiful, multi-glaze tiles (their ceramic sculpture in laguna beach's heisler park won them "artist of the year" in 2013), they opted to buy tiles wholesale from a friend's shop. "we wanted to design our own," says scott, "but it would have taken us away from making artwork that was paying for the house."
the talented pair turned their creative energies to fashion an interior landscape of east-meets-west appointments as well. take the vintage mizuya tansu (japanese stacking cabinets) naomi's mother had sent from tokyo. rearranged side by side and topped with granite, they form the kitchen's unique center island.
in the master bedroom, frosted-glass windows produce the appearance of a transparent shoji screen. although the large fixed glass had to be custom made and frosted at the manufacturer, they reproduced the same look themselves on the side windows with a frosted privacy window film from home depot.
so, do you have to be an artist to help build your own home?
"it undoubtedly helps to have some real hands on experience," says scott. "on the other hand, being artists made the project longer for sure… we're both very particular."
some d.i.y tips from the schoenherrs
artist naomi schoenherr advises when building your own home to be flexible and educate yourself. "talking to building trade professionals, reading books and taking on-line tutorials definitely helps the design process — there are always more than one way to do something."